Another Australia Day, another moment to reflect upon what makes this national identity of ours such a special construct to have forcibly imposed upon one's globally-regulated passport, based on nothing more than pure chance of birthplace within arbitrarily-assigned global borders and governance of a particular era.
FOR WE ARE YOUNG AND FREE"
According to 2012 census data, Australia's population pyramid tallies up only 7.35 million people under the age of 25, out of a total population of 22.89 million. Therefore, less than one third of Australians are actually 'young'.
As for being 'free', the penalty for trafficking an individual in Australia is a fine of up to $110,000. (Whilst the retail sale price of your enslaved Australian may be substantially lower than this, I'm sure you'd fetch at least a few hundred bucks from an illegal brothel or organ dealer; just giving someone away for free makes for pretty lousy human trafficking business.)


Also, the entire first generation of convicts to this land may have something to say about Australians all being free.
While it is indeed true that gold begins Au-stralia's name and is the third ranked export at around 400 tonnes, totalling 8% of 2011's export trade, iron and coal together accounted for a whopping 58%.

Iron Ore - $64.1 billion
Coal - $46.8 billion
Gold - $16.0 billion
Mining magnate and world's richest woman Gina Rinehart can certainly vouch for the predominantly iron-and-coal-enriched soil Australia provides us, so we should really be singing "We've ironic soil and wealth for toil." Ha, ironically, Gina does actually very little of the toil involved in the mining industry. Whilst miners may earn a handsome $90,000 per annum for backbreaking labour, Gina's wealth more than doubled over the last financial year to an estimated $29 billion, and all she did was spend her time buying more things.
Of course, we may soon be singing 'wealth for oil' following the recent findings in South Australia of an estimated $20 trillion of shale oil, which would put Australia up there with the biggest oil exporters in the world.
"OUR HOME IS GIRT BY SEA"
Starting from the top of the map here, we have...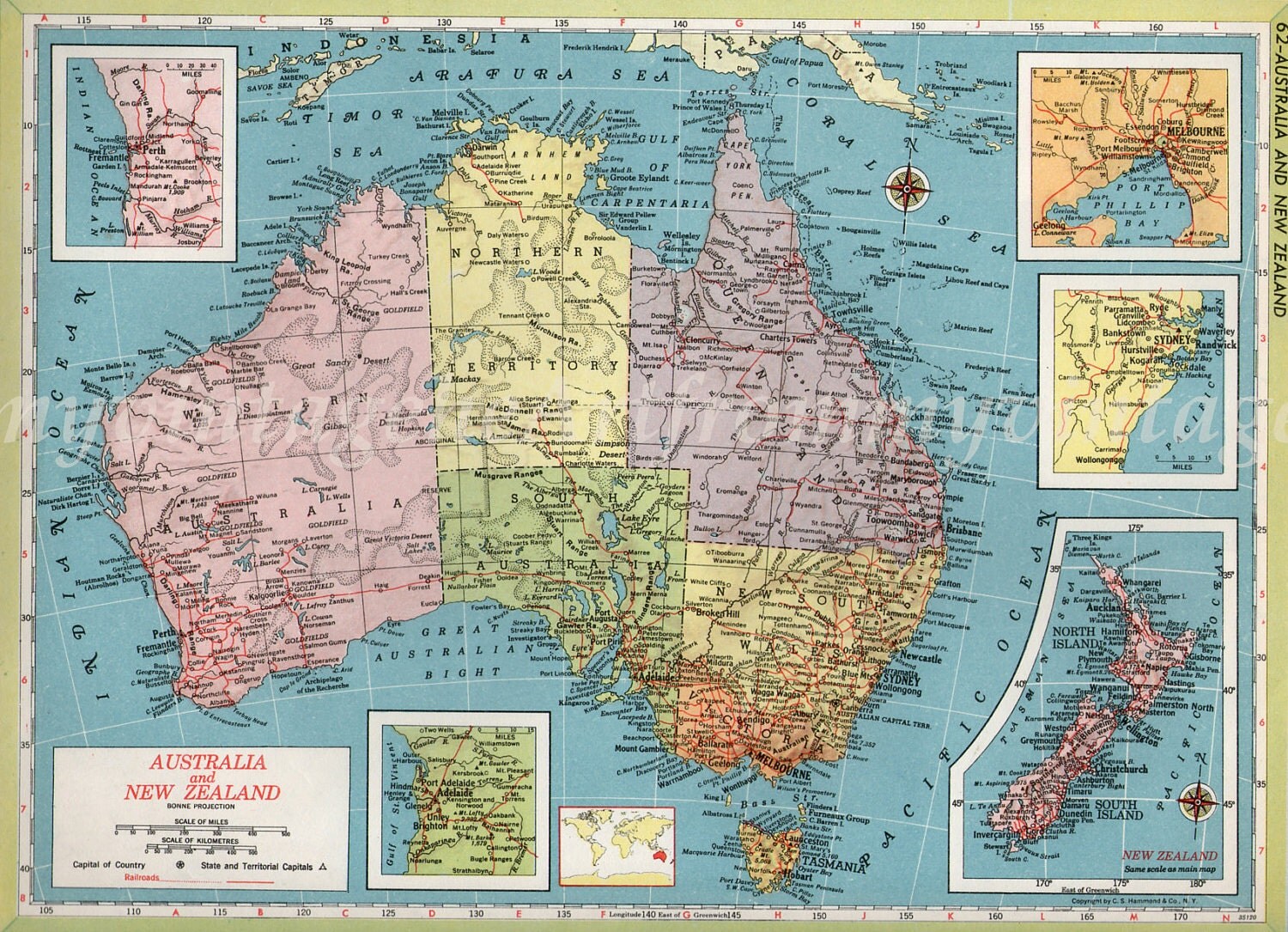 ... the Timor Sea, Arafura Sea,

the Coral Sea, the Tasman Sea…
but then also a lot of South Pacific Ocean, Bass Strait down the bottom, Great Australian Bight… over west to the Southern Ocean and Indian Ocean there… technically, not really 'seas' are they?
Plus, there are Gulfs and Bays scattered all along the way.
I mean, to officially 'gird' something, you by definition have to completely encircle it; so our home* is really girt by sea, ocean, straight, bay, gulf and bight.
(*That is, assuming we are indigenous members of the Aboriginal and Torres Strait Islander communities to be able to call this 'our home' in the first place.)

Oh, the rest of the world is all too familiar with the 'gifts' of nature Australia has on offer. Apart from temperatures nearly tipping 50
º
C this past month and a history of devastating droughts, bushfires and cyclones, we also have our native fauna abounding:
Box jellyfish (each featuring up to 60 3m-long tentacles filled with extremely venomous injectors that wrap around you as you drown in convulsive agony!)
Taipan (the most venomous snake in the world – with a single bite able to kill 100 humans, you will feel your bloodstream fill with anti-coagulants as you lay in paralysis, unable to stop haemorraghing internally as you piss out failing organ tissue!)
Stonefish (the most venomous fish in the world – 13 barbs of poison so excruciatingly painful that victims often request amputation of the affected limb, with aftereffects lasting years!)
Funnel web spider (each bite jam-packed with 40 different toxic proteins!)
Saltwater crocodile (deathrolls and devours anything smaller than a water buffalo!)
Great White shark (the world's largest predatory fishy!)
Red-back spider (making every trip to the toilet an adventure!)
Tiger snake (with 45% mortality rate!)
Dingo (cot-death on legs!)
Drop bear (even after gun law amendments, hitchhikers still continue to disappear…)
Rather than quantifiable richness akin to monetary wealth, the word 'rich' here clearly refers to this beauty being 'plentiful' and 'abundant'… and yet, it is also supposedly 'rare', which means 'not at all plentiful' and 'not at all abundant'.
Alternatively, 'rich' in reference to food means 'having flavoursome ingredients such as spices' (ie. ginger); of colour, 'rich' refers to an 'intense, vivid or deep hue' (ie. rich red). Also, the saying 'that's a bit rich' can comment upon the blatant facetiousness inherent in a hypocritical statement.

From this accumulated combination of denotative meaning, we can infer that 'beauty rich and rare' is a euphemism for rangas, one of Australia's chief exports. On the rareness scale, redheads account for only 3% of the global population, yet Australia still manages to clock up Kylie Minogue, Nicole Kidman, Cate Blanchett, Isla Fisher and Yahoo Serious as national sex icons.

We then also have
Julia Gillard, Magda Szubanski, Pauline Hanson and Rhonda from the AAMI ads exemplifying a rather 'rich' display of rare beauty.
In 1906, the Melbourne Athenae screened The Story Of The Kelly Gang, the world's first feature film, demonstrating Australia's technological advances. To this day, the Sydney Opera House hosts hundreds of live international stage performances, but does EVERY stage Advance Australia Fair? (Why, I hear Belvoir put on a play once… and it was TERRIBLE.)

In addition, 'fair' can either refer to 'just and equitable', or 'light skinned and blonde'. Given that Indigenous Australians would not receive voting rights until the late 1960s, one can deduce that this excerpt speaks for the times in which it was written, as our more dark Australians would be waiting a mighty long time for any sense of 'Advancement'… and would also probably think that those two definitions of 'fair' were hardly synonymous.

"BENEATH OUR RADIANT SOUTHERN CROSS"
What the Southern Cross lacks in size (being the smallest of all modern constellations) it most certainly makes up for in 'radiance'. Tattooed upon the flesh of all our most upstanding of citizens and also stickered across their vehicles, the Southern Cross is a glowing symbol of our national pride.
Alpha Crucis is ranked the thirteenth-brightest star. Not bad, considering there are BILLIONS OF THOSE THINGS.
Ah, future tense, the true Aussie spirit: putting off 'til tomorrow what one can do today. She'll be right, mate.
But all jokes aside, cardiovascular diseases account for about 1/8th of health care costs within our nation according to the ABS; with 1/5th of Australians diagnosed with a heart-related illness. Furthermore, 1/3rd of reported injuries are hand-related, so Australians truly do sacrifice their hearts and hands for their country.
And by 'ours', we mean our Commonwealth is governed by an elected legislative Senate and House of Representatives, as well as a judicial branch of the High Court, and then the Prime Minister also elects an executive Governor-General who has to be approved by the Queen to have overruling powers in regards to our federal constitutional monarchy.
I, uh, was unaware that 'renowned' was in superlative form. This line makes no grammatical sense. It's like saying 'make this pavlova of ours eaten of all the meals', 'make this Hills Hoist of ours rusted of all the metals', or 'make this Fosters of ours obsolete of all the clichés.'
"FOR THOSE WHO'VE COME ACROSS THE SEA
WE'VE BOUNDLESS PLAINS TO SHARE"

Hahahahaha. BAAAAAhahahahaha. HAHAHAHAHAHAHAHAHAHAHAHAHAAA!
Fuck, man. That is RICH. Where do I even START?!
Our 'planes' with a 'bounding' kangaroo insignia may certainly assist in sharing some Nauruan culture with you. Maybe you will experience how boundlessly plain the interior of a Curtin Immigration Detention Centre cell looks like after your third year. I mean, it's kind of hard to offer boundless plains when we are also girt by
sea, ocean, straight, bay, gulf and bight.
Oh, for crying out loud, no wonder Captain Planet never had an Australian Planeteer along for the ride; Courage sounds just as lame as Heart does.
"TO ADVANCE AUSTRALIA FAIR
IN JOYFUL STRAINS THEN LET US SING
ADVANCE AUSTRALIA FAIR"